Hot Rods and Heels is having a contest, winners will be announced
at their show May 16th (also my next performance)
You can participate in voting from March 10-25. There are many categories to vote from models, photographers, performers, hair & makeup artist and troupes. And please take me into consideration when you're voting! I've been nominated into two categories. "One to Watch" for entertainer and model. (listed as entertainerO2W & modelO2W). You're allowed to vote in all categories, just one vote PER category. Just go to the album, click on the photo and comment with "vote" and press submit. Da-Ta!
In order to vote you have to add Hot Rods and Heels as a friend on myspace. All the rules are below: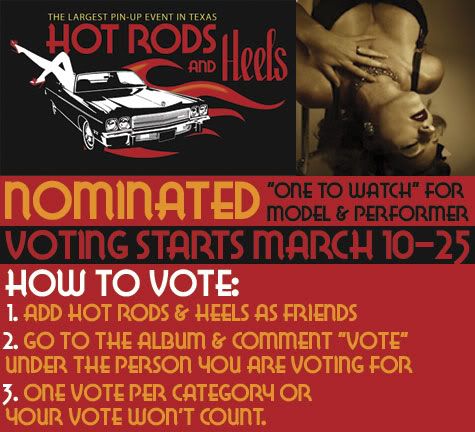 The Top 3 girls will go on to be voted by a panel of judges at the event. So as long as I stay in the top 3 (which I am in the "entertainerO2W") I'm solid, yo. yayyy!
Browse Timeline